Symposium on Facing Our Future
Friday, December 9th, 2011
Dodds Auditorium, Robertson Hall
Woodrow Wilson School of Public and International Affairs
Princeton University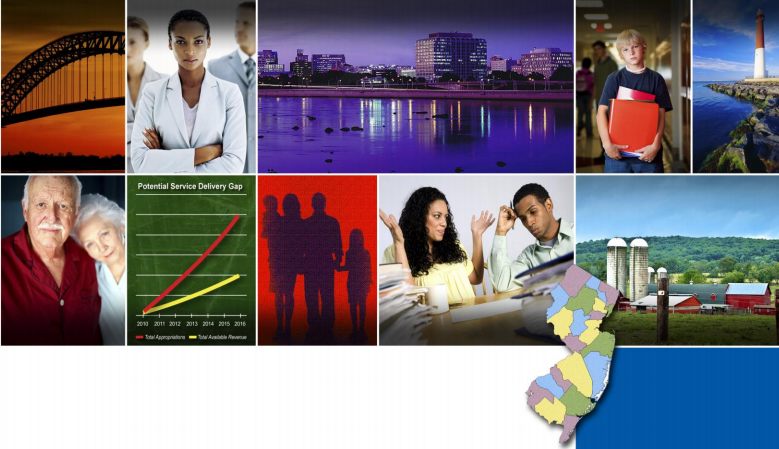 New Jersey is in a fiscal crisis. The way government at all levels spends money cannot be sustained. The core questions critical to the discussion — and to our future — are simple: what are our priorities; are we organized effectively and efficiently to deliver on those priorities within all levels of our government; and are we able to fund those priorities.
Facing Our Future is an effort coordinated through the Council of New Jersey Grantmakers and led by an independent, nonpartisan Leadership Group. Like others throughout New Jersey, the Leadership Group for Facing Our Future cares profoundly about the state's deeply troubled fiscal future. This volunteer group — composed of former government executives and public servants — represents all sides of the political spectrum. Listen to their carefully researched information and learn about the problems we all face in this fiscal crisis. Discuss and provide input on potential options for how to address New Jersey's fiscal future – our future.
To view the presentation by the Leadership Group, click here.
To view the presentation by David Fisher, PP/AICP, K. Hovnanian Homes, click here.
Facing Our Future Leadership Group Presenters:
Deborah T. Poritz
Former Chief Justice Deborah T. Poritz is Of Counsel at Drinker Biddle & Reath, LLP. Additionally, she serves as a Trustee of the Fund for New Jersey
Raphael J. ("Ray") Caprio
Vice President, Division of Continuing Studies at Rutgers, The State University of NJ; Executive Director, Center for Executive Leadership in Government at Rutgers and Professor of Public Administration. Past: Department Chair (Geography, Urban Studies and Public Administration departments) at Rutgers; Senior Associate Academic Dean at Rutgers' Newark College of Arts and Sciences (NCAS); Acting NCAS Dean, Associate Provost (Newark)
Sam Crane
Principal, CraneConsulting LLC. Past: Senior Vice President – External Affairs, Maher Terminals LLC 2000/2008; President, Regional Business Partnership 1994/2000; NJ State Treasurer 1992/1994
Robert Del Tufo
Of Counsel, Skadden, Arps, Slate, Meagher & Flom, LLP and Affiliates. Past: Attorney General, NJ 1990/1993; Commissioner, NJ State Commission of Investigation 1981/1984; US Attorney for the District of NJ 1977/1980; First Assistant Attorney General, NJ 1974/1977; Director, Division of Criminal Justice 1976/1977; Assistant Prosecutor, Morris County 1962/1967; First Assistant Prosecutor 1965/1967
Richard F. Keevey
"Distinguished Practitioner in Residence", School of Public Affairs and Administration, Rutgers University – Newark. Past: NJ State Budget Director and Comptroller (under two governors); Deputy Under Secretary of Defense for Finance; Chief Financial Officer – US Department of Housing and Urban Development; Practice Director – Andersen LLP and Unisys Corporation
Ingrid Reed
Retired; Board Chair, www.njspotlight.com; Chair, Governor's Task Force on Local Government Ethics; founder and member of the Board, NJ Future; Chair, Capital City Redevelopment Corporation. Past: New Jersey Project Director, Eagleton Institute of Politics, Rutgers
Response Panel:
Rev. Eric Dobson, Open Communities. An ordained pastor, a community organizer and outreach specialist, and a community psychologist. Co-Founder of Open Communities LLC, integration consultants. He also served as a clergy outreach director for the Obama campaign.

David Fisher, PP/AICP, Vice President of Governmental Affairs for K. Hovnanian, a residential building company based in Edison, New Jersey. Former member of the NJ State Planning Commission.
Robert Goertz, Ph.D.,  Retired, Director, Office of State Budget and Accounting, for the New Jersey Department of Education.
Deborah Alaimo Lawlor, PP/AICP, Chief of Sustainability managing the New Jersey Meadowlands Commission Office of Sustainability and the Meadowlands Conservation Trust. Is a commissioner with the American Planning Association's (APA) American Institute of Certified Planners (AICP).
Lucy Vandenberg, PP/AICP, Moderator, Executive Director of PlanSmart NJ, formerly a Planning and Redevelopment Aide for Mayor Dana L. Redd in the City of Camden.  Previously the Executive Director of the NJ Council on Affordable Housing (COAH).
To learn more about Facing Our Future and to download a copy of the report, click here.
We have applied for and expect to receive 3 AICP Certification Maintenance (CM) Credits.
Presented by: